These instructions are for migrating from Elexio Deluxe to Elexio Community. Your success is dependent on reading the Data Migration Manual. We consider it a requirement for understanding the entire process and the differences between Deluxe and Community.
Migration Process Overview
Initial Data Migration

Export your data from Elexio Deluxe based on a number of choices.
Import the data into Elexio Community with additional choices.
Review the migration of the data.

Optionally, adjust the choices of Export and or Import and do as many additional migration runs as desired to get the mapping exactly the way you want it for your final run. You don't want to be running the final migration with any new settings that you have not already tested out and reviewed on a prior run.

Select a date for your final migration (and confirm it with your Success Coach if you have one).

Sandbox Phase

Work in Community as a sandbox for learning, training, practicing, and testing implementation decisions.

Final Data Migration (FDM) and Go Live

Run your final migration by repeating the exact same Export and Import steps.

After making sure you are ready to begin using Community as your authoritative database.

Review and sign-off on the final migration by notifying Elexio.
You are now LIVE!

If you have requested it 5 business days in advance, the Elexio team (after sign-off) can then migrate your Online Giving accounts and schedules into Elexio Giving. See the details.
Step by Step Instructions
With limited experience in Community, it may be hard to know the benefits of each choice. Please read the Data Migration Manual first and refer to it over and over as you come across new questions. Sometimes it is helpful to see and work in the data, so don't be afraid to run the migration with your initial choices, knowing you can change your choices after testing them out. We suggest going with our recommended options unless you have specific needs to do otherwise. If you haven't been consistent in tracking certain things, you may want to start fresh, by not migrating those fields. You can avoid bringing in "bad data."
Time estimates - typically the export and import each take 10 to 60 minutes. If you have large amounts of data, especially, photos, documents, or check images, it may take multiple hours.
Export from Deluxe
1. In Deluxe, click on the "?" icon on the top right and choose Export Data.
Only Administrators have this Export option.
Run the export when everyone is out of the system except the Admin. Otherwise, there is a risk if someone is working in Deluxe and making changes that it might affect the export. However, it should be fine as long as it is not during a "heavy use" time such entering contribution data, entering attendance, or changing group data.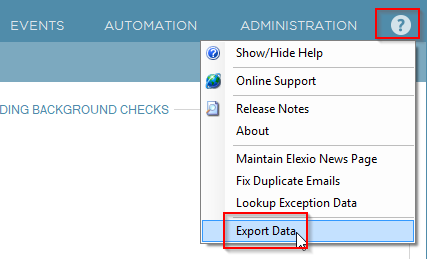 2. Make your selections and click Export. See explanations and best practices in the Migration Options section of the Data Migration Manual.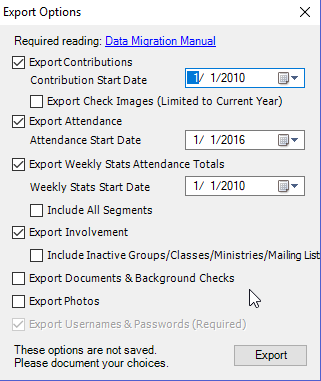 After making your choices and clicking "Export", you will see a small text box that says, "Exporting data…"

3. When complete, a Save Exported Data dialog box will appear. Leave the Save as type as *.zip and give it a name like CityChurchExport8-4-17. Be sure to save it in a secure file location since it includes all your data.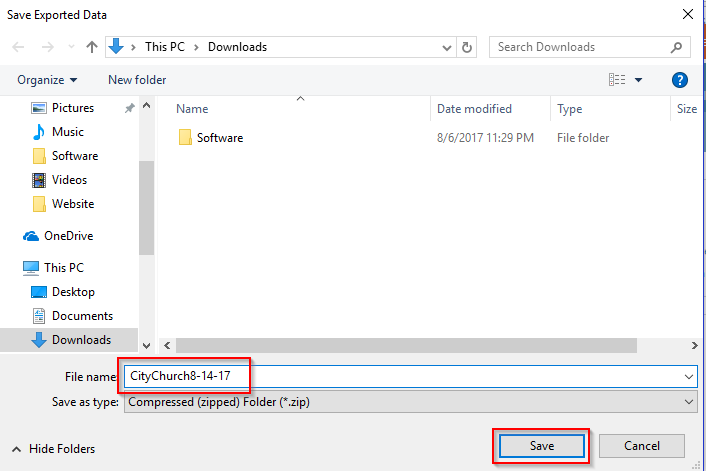 The Export is now completed. Hurray, you're halfway there!
Import into Community

1. You will import through a hidden web page in your Community instance (it cannot be found on a menu). Add /utilities/importelexio to the end of your Community URL so it will look like this: https://[TheFirstPartOfYourCommunityURL].elexiochms.com/utilities/importelexio and click Enter on your keyboard.
*It is best to have all your staff (or others who have been logging into the system) log out of Community before each migration run. If you forget, people may get an error the first time they access the system after a run. This can be corrected by logging out and logging back in.
2. Choose the file you exported and click Next. This may take some time to upload as it can be a large file.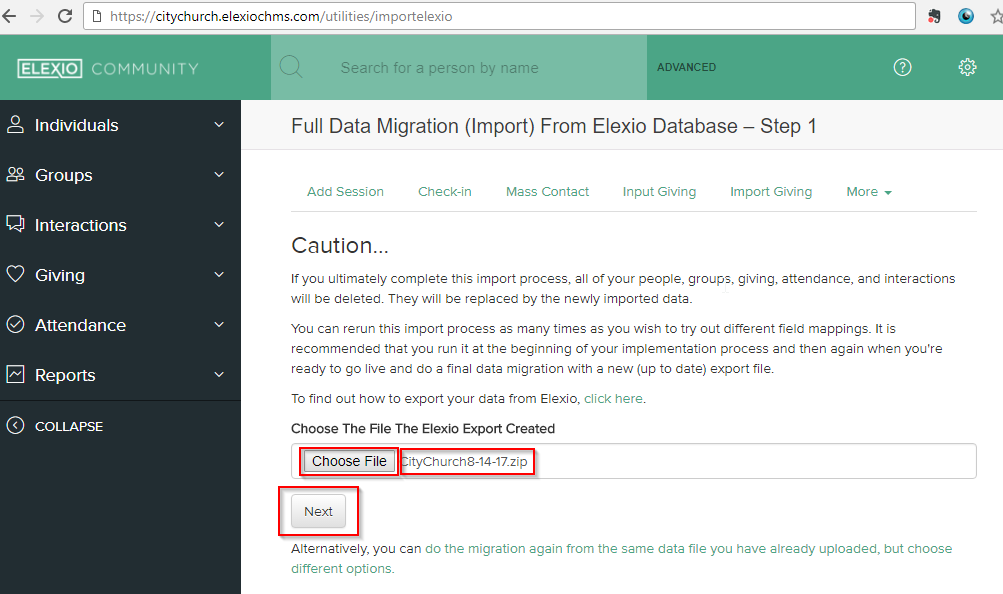 3. Make your selections on the next page and click Do the Migration.
There are multiple options as you page down.
See explanations and best practices in the Migration Options section of the Data Migration Manual.
See the list of items that are purged vs. kept with each run, in the Detailed 3 Step Process section.
If Private Prayer Requests and Private Notes are converted, please see the Additional Details section of the Data Migration Manual. There is a Security Risk that you'll want to keep in mind and address before assigning Permissions.
Make sure no one but the Admin is logged in during the import.
Here is a screen shot of the beginning of the Import Options page: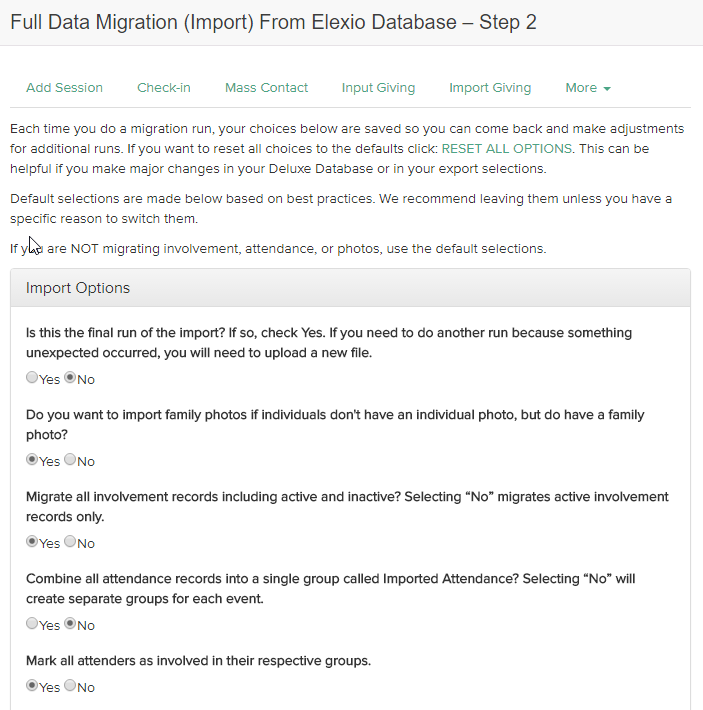 After clicking "Do the Migration" patiently wait for the Import to run. Lots of data may take lots of time. But it's worth it. Coffee break anyone?

4. You will see a Finished message.
5. The migration only keeps the Admin permission role for the person who is signed in and runs the import. The username and password are the same as Deluxe.
6. Review the Data Migration. Since the Permission Role settings are saved with each run, but not the people associated with them, you will need to re-add other people records to the various Roles if you want them to access the system for review help or for sandbox playing/learning. See these Review Instructions to get you started.
Additional migration runs
If you notice things that you want to change in the Import choices, but not the export choices, you can run the data migration again by going to https://[FirstPartOfYourCommunityURL].elexiochms.com/utilities/ImportElexio and click the link at the bottom: "Do the migration again from the same data file you have already uploaded, but choose different options." If you want to change the Export options, you will need to do another export and upload the newly exported zip file into Community. The settings on step 2 of the Import will be saved each time, so you just have to adjust the ones you want to change.
If this is your final data migration run
If you do not use Deluxe FPS Giving, then you can run your own Final Data Migration and control the timeline. After reviewing it, send an email to the Data Migration email thread with the text "We are signing off on our final data migration."
If you use Deluxe FPS Giving and would like for us to run the Data Migration of Online Givers (DMOG), contact the Data Migration team by replying to the Data Migration email thread to schedule your Final Data Migration from Deluxe to Community AND the DMOG. At least 5 business days are needed so plan accordingly. Please read the Data Migration of Online Givers help page thoroughly for DMOG pre-migration tasks and post-migration tasks.