If migrating from Elexio Deluxe to Elexio Community, explore information using the interactive index below.
If migrating from another system, click here for details on the process and what can be migrated.
What is "Elexio Data Migration"?
Elexio Migration is a service that moves information between Elexio software products.
Elexio Deluxe and Elexio Community are both cloud-based software products that empower your church community.
Elexio Migration is one component of your implementation process. Project and change management are required to effectively engage your people, develop new processes and configure new technology.
The remainder of this document describes, how your information is translated from Elexio Deluxe to Elexio Community. In addition, it explains the process of executing and validating your information transfer.
Elexio Migration Overview
Elexio securely migrates your data based on a carefully pre-determined mapping. You will have some choices along the way of how much data you want to migrate and how you want to map certain fields.
This data migration does not remove or delete data from Elexio Deluxe. The two systems independently store data in a similar way. The systems have a different structure and different features, so you will want to learn as much about Community as you can to know how to best make your choices. Where there are differences, your data is translated from Elexio Deluxe to the closest comparable location in Elexio Community.
Scope of Migration
What is included?
People records and their related information including names, contact information, dates, created date, and current status
Information related to people including group involvement, attendance, active prior year pledges, giving history, notes, follow-ups, prayer requests, photos, background check details, other documents, check images (entire last year and YTD if running between Jan. 1 and June 30. Current YTD if running after July 1), and ministry assessment data.
People's username and password for those who have Database and or Portal accounts.
Online Giving accounts and schedules can be migrated from Deluxe to Elexio Giving in a separate process. It includes: recurring schedules, saved payment/card numbers, and usernames/passwords.
See the below Data Mapping Chart for a detailed list.
What is not included?
The list of items that are not included: EVENTS, rooms, web forms, security roles, contribution tags, certain giving methods, MICR check #'s used with the check scanning app, general settings such as church address, group/ministry/class details, status history besides created date and current status date, title, middle name, seeker?, new resident?, pledges with an end date older than the prior calendar year.
For a DETAILED LIST of what is included and what is not, go to the Data Mapping Chart below.
Elexio Community is partially configured during the process, creating appropriate destinations to store the migrated data. Configuration refers to customizing the software architecture with configurable and system-defined fields. There are additional explanations of the data structure differences between Deluxe and Community in paragraph form below the Data Mapping Chart.
Migration Process Overview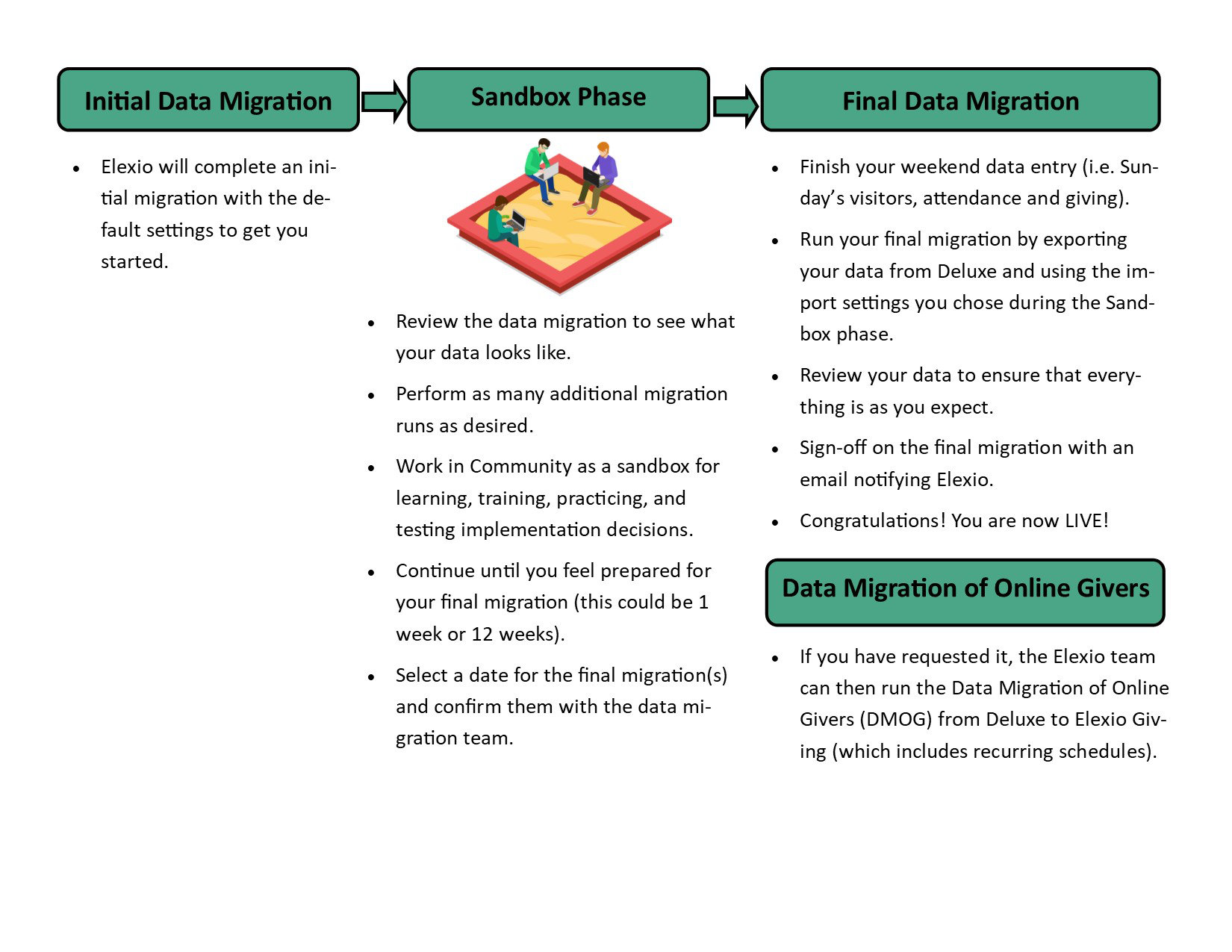 Detailed 3 Step Process
Initial Data Migration
The first run of data migration from Elexio Deluxe into Elexio Community is called Initial Data Migration (IDM). An initial migration is performed by Elexio and moves your data from Elexio Deluxe to Elexio Community. The IDM does not change or delete information in Elexio Deluxe. When you are ready to adjust the migration settings and do additional interim runs, see the Step By Step Instructions.
Once your IDM has been completed, you and your team will begin verifying 2 things.
Data Accuracy: First, you will verify that your data has been migrated accurately by comparing what migrated to Elexio Community versus what is recorded in Elexio Deluxe. Please complete this data validation before making any changes in Elexio Community. You will need to review any automatic system configurations created in the IDM process. The validation effort will ensure accuracy and complement your other training efforts.
Confirming Choices: You will want to look at and work with your data to verify that the export and import choices you made are appropriate. If they need to be adjusted, other Data Migration runs can be initiated. Each run will wipe out all the non-configuration data and re-migrate it with the new export and import mapping. For example, you may decide you want certain note types migrated to Configurable Fields instead of to the Personal Note field. Optionally, adjust the choices of Export and or Import and do as many additional migration runs as desired to get the mapping exactly the way you want it for your final run. You don't want to be running the final migration with any new settings that you have not already tested out and reviewed on a prior run. If you notice a last-minute change you want to make, run it as soon as possible - at least a week before your final migration date - to make sure nothing breaks and slows down your launch.
Even though you see your data in Elexio Community, you will continue using Elexio Deluxe until your Final Data Migration is complete. Even if your data migration mapping choices have been finalized, we recommend taking the time to learn Community, making implementation decisions, testing, and preparing your team before you complete a Final Data Migration and go live.
Sandbox Phase
After initial data migration and subsequent adjustment (interim) migration runs, a copy of your Elexio Deluxe data remains temporarily in Elexio Community. On a later date, when the final data migration is run, all the non-configuration data in Elexio Community will be purged and replaced with the most current information in Elexio Deluxe. However, some configuration settings will be saved. The time between these two dates provides a "sandbox" training environment in Elexio Community during your implementation process. The Sandbox Phase is an ideal time to practice using Community and defining your processes.
We recommend 4 to 16 weeks of learning and planning before going live. The average church goes live in the 8 to 10-week range.
There are two different aspects of the Sandbox Phase – Data and Configuration.
Data is simply your information migrated from Elexio Deluxe and any other information you add. This information is PURGED with each migration run. It includes:
People and Households
Usernames and Passwords
Communication Values and people fields
Groups and Attendance
Notes and Interactions
Contributions and Pledges
Attendance
Photos
Background checks
Check images
Other items that are associated with people or groups:
Configurable Fields
Group Categories & Properties
Interactions and Interaction Types
Workflows
Events
Saved Advanced Searches (because they can include groups)
Scheduled Emails
Dashboard Widgets
You can practice in Elexio Community with your own data and practice entering new data without risk. During the Sandbox Phase, please remember to only enter data into Elexio Community for practice, as all data will be purged from Elexio Community on a later date.
Configuration is system settings. Configuration is not data. Configuration is creating settings and new places to store data. And unlike data, which will be purged and replaced later, configuration will REMAIN PERMANENTLY in Elexio Community.
Examples of permanent configuration include:
Permission Roles Setup

However, do not take the time to set up detailed Interaction Permissions, Group Leader Permissions or Group Permissions for each role since Interactions and Groups get re-created with each migration run. The database ID numbers for each will change and you will see random groups or interactions in your permission settings. This will require the permissions with specific groups or specific interactions to be checked and re-done after each migration run.

Calendar Settings (not events)

Permission settings (but not permission assignments/people), Properties, Views, Campuses, Rooms, Equipment, and Vehicles

Settings

General
Terminology
Attendance
Groups > Group Finder
Check-in Mode & Check-in Stations Settings

However, if you filter on a group Property, you will need to re-set this field after each migration.

Giving Statement Templates
Settings > Services - (MailChimp, Constant Contact, and Planning Center sync groups by Group IDs which change with each run. If you test these, you will need to delete and re-do the sync groups after each run.)

Forms

Forms will be kept. Forms can be accessed in both Elexio Giving and Community. If you don't see forms in the main Community navigation menu or as an option under Permissions, you can email support to turn them on in Community.
Final Data Migration (FDM) and Go Live
After taking the time to learn Community, making implementation decisions, testing, and preparing your team, a final data migration from Elexio Deluxe to Elexio Community can be executed. If it has been more than 4 weeks since you last data migration run, we recommend you do another full export and import a week before your FDM date. This confirms that everything is still setup correctly and runs smoothly so you don't get any surprise delays during your FDM week. The scope of migrated data and configuration is the same as Initial Data Migration. FDM purges all data, but not some configurations from Elexio Community and replaces it with a copy of the most recent information in Elexio Deluxe. FDM does not remove or delete data from Elexio Deluxe.
See the sample Launch Week Schedule image and download it if desired.
Data Migration of Online Givers (DMOG) to Elexio Giving - If you are migrating from Elexio Deluxe to Elexio Community and you are using Elexio Deluxe online giving, event registration payments or forms payments, you will want to do this migration of usernames & passwords, saved payment methods and recurring giving schedules from Elexio Deluxe to Elexio Giving. This is a separate process run by the Elexio data migration team after you sign off on your FDM. It will migrate the following from Deluxe to Elexio Giving: Username and Password; Saved Payment Methods; Recurring Giving Schedules. The Giving schedules will be deleted from Elexio Deluxe so people are not double charged. For more details, go to the Data Migration of Online Givers web page.
If you desire this information to be migrated, please notify us as soon as possible - at least 5 business days in advance. Depending on our schedule, not every date will be available. Please do this by replying to the Data Migration email thread from Jenny.
This is the moment your church ceases to use Elexio Deluxe and begins to use Elexio Community exclusively. During the review period of this final run, you should not edit either database between the final data migration to Community and your final sign-off. Do not change/edit data while in the review phase of your final data migration from Deluxe to Community. The reasons are, 1) So you review is not thrown off by changes; and 2) in case there is a bug, the developer needs to see the data exactly as it was migrated. Please consider the impact of this change carefully. You will want to have planned accordingly and be ready to communicate with your staff, volunteers, and congregation as desired.
Successful churches pre-schedule their FDM to occur at the end of their team's implementation planning process, just before the team switches from Elexio Deluxe to Elexio Community. Here is the schedule surrounding FDM:
All data entry must be completed in Elexio Deluxe prior to data migration.
During Elexio Deluxe export and Elexio Community import, make sure everyone except the Admin is logged out so no data is being editing during migration.
Elexio Community will be ready for validation following migration.

We recommend that you validate your data in Elexio Community compared to your Elexio Deluxe data, just as you did after the Initial Data Migration. If you see any discrepancies, please contact Elexio with a detailed explanation of what information was not imported correctly, allowing us to make corrections as quickly as possible.

After validation, you sign-off with an email to Elexio, then your team begins using Elexio Community to complete any additional setup and data entry in preparation for your internal launch (Go Live) and public rollout.
If you are choosing to migrate Online Giving, make sure your sign-off email mentions you are ready for the Elexio team to run the Data Migration of Online Givers. You don't have to wait for this 2nd migration to be completed before working in Community because this only saves information into Elexio Giving and not into Community.
Go Live
Once your Final Data Migration is complete and your data validated, you will announce to your team that your church is now Live with Elexio Community. It is at this point that Elexio Community becomes your authoritative database. From this day forward your team will use Elexio Community for all data management. You can have separate internal and public "Go Live" dates. Public "Go Live" is where you roll out features to your attenders, such as the Mobile App, Online Giving, Small Group Leader Attendance Taking, Calendar, etc.
Here are a few things you'll want to do right after your FDM is signed off on:
Assign correct permission roles to all needed users
If using Elexio Giving, to integrate Elexio Giving with Elexio Community follow these instructions or this step by step guide. If doing the Data Migration of Online Givers, follow the steps on the DMOG page.
Check and update settings if needed
Start data clean up if necessary (edit, merge, move, split, etc.)
Set up groups by changing names, adding groups, and adding members and leaders to groups or deleting unneeded groups
Check all group settings and create and assign group Categories and Properties
Setup any needed Interaction types, workflows, etc.
Congratulations!
Your team is now up and running with Elexio Community! We are honored to have you as a church partner. We're excited to see how Elexio Community helps your team accelerate ministry in your church.
Migration Choices
A data migration is a good time to evaluate how useful certain historical data is. You may not want to bring in data that is rarely accessed. If you want to have access "just in case," it is better to archive your data into an Excel report outside of your main database. Then it doesn't get in the way, making it harder to find and use more current data. While we cannot meet every possible desire of every different church or ministry, we provide choices in key areas.
With limited experience in Community, it may be hard to know the benefits of each choice. Don't worry, you can change your choices after testing them out. You can do multiple migration runs with adjustments. We suggest going with our recommended options below (in green italic font) unless you have specific needs to do otherwise. For example, some churches haven't been consistent in tracking certain things, so they want to start fresh, by not bringing in "bad data."
Export Options
Contributions – Yes or No. You can select how many years of contribution data you'd like to convert by adding a start date or select None. We recommend 3 to 7 years.

You can also select to migrate Check Images or not (Limited to the entire last year and YTD if running between Jan. 1 and June 30. Current YTD only if running after July 1).

Migrate Attendance - Yes or No. Select Start Date. We recommend 1 to 2 years since the recent attendance is what is most useful.
Weekly Stats - Yes or No. Choose a start date only if you have been using the Weekly Stats tab to enter your total weekend attendance number.

You can also choose the "Include all segments" if you have been adding detailed segments to this area.

Migrate Involvement – Yes or No. If Yes, this will export all active and inactive Involvement records for active group. Later, in the Import step, you can choose to migrate them All or Active Only. No - No small groups, ministry teams, mailing lists or classes will be migrated.

You can also choose to "Include Inactive Groups/Classes/Ministries/Mailing Lists" which will migrate both active and inactive people in those groups.

Documents - Yes or No. This exports all Types in the Background Checks area regardless of whether they have an attached document or not. Later in the Import process, you can choose if and how to import each type.
Photos - Yes or No. This exports all Individual photos and a family photo for each person who has one, but doesn't have an individual photo. Later, in the Import process, you can choose whether or not include these family photos. They can be cropped to just the individual in Community.
Usernames & Passwords - They are migrated by default. If users do have a Deluxe account, it will migrate the username (which is their default email address) and their password into Community. It will also migrate all email addresses (except duplicates) into the Username field in Community even if the person doesn't have a Deluxe Portal or Database account. This will make it easier for future Community account maintenance since we recommend using email addresses as usernames in Community instead of the default of Firstname.Lastname. Please see the details below for more information.
Import Options:
Do you want to import family photos if individuals don't have an individual photo, but do have a family photo?

Yes

, No
Migrate all involvement records including active and inactive? Selecting "No" migrates active involvement records only.

Yes

, No. Yes - Migrates both Active and Inactive records. Inactive involvement will be marked the same in Community. No - Only migrates Active records.

*Note: All people in the group will be migrated regardless of levels of involvement, including Interested. Community doesn't have levels of involvement, so all will be marked as Member. You may want to use the Deluxe Mass Edit tool to move Interested people to a new group such as Ministry Team – Children's – Interested or you may want to print a list and then remove them after the final migration.

Combine all attendance records into a single group called Imported Attendance? Selecting "No" will create separate groups for each event. Yes,

No

No – Migrates all events as separate groups that attendance is attached to. This is the most common option. It adds a group for every event series and names them: EVENT – Event Name. Post migration - be careful about removing Event groups since deleting a group that has attendance will delete the attendance. You can rename the groups to use them for check-in (think Children's Check-in events) or you can archive the groups so they will not appear on your groups list.

Yes – Migrates into one single group called Imported Attendance. The advantage of this option is that you will still see all the dates a person attended something, but you will not see a group involvement record for every single event that had attendance in the date range you choose to export. If you choose "No" and have many different events (series) and are bringing in many years of attendance, people may have an involvement list that is very long.

Mark all attenders as involved in their respective groups.

Yes

, No. Yes –

BUT only if you are just migrating the current ministry year attendance

. Choosing yes keeps attendance AND adds event attendees as members of the rosters of each separate group that was created. If you are migrating multiple years of attendance, it will add anyone who has attended in that time period to each group. For example, if you migrate 3 years of attendance, the 1st grade attendance/check-in group would have 1st, 2nd, and 3rd graders on the roster since they all attended 1st grade in the last 3 years. If you just export the current ministry year of attendance, for example, all the children who attended the 1st grade class during the dates you selected will be added to the 1st grade group roster. No – Keeps attendance, but does not add event attendees to the separate groups created. Either way you choose, to keep continuity of attendance trends, you should use these Event attendance groups as your check-in groups going forward. After your final migration, you can rename these groups and populate them with all the children who should be in them. You can either copy people into the groups from Age Groups or use the Birth Date report to filter by their birth dates, then use the Gear options to Add to Groups.
Prayer Request & Follow-up Request Options: These are being migrated as Interactions.

PRIVACY RISK

: If you decide to migrate Private Prayer Requests, see how to set up permissions here.

Migrate None
Migrate Active [Only] - If there are hundreds of active ones, they will be listed on the Outstanding Interactions tab, which can overwhelm that area of the database. They can only be marked as completed or deleted one at a time.
Migrate All - Migrates active and inactive requests. Inactive in Deluxe = Complete in Community. Same risk as #2.

Migrate All (Mark Complete)

– This is our recommended option if you want history, but want to avoid a long list of non-current Outstanding Interactions that would appear on each staff member's list and on email reminders.

Fields - there are some fields that do not have a matching system field in Community. For example, Marital Status and Schoool. They are most commonly migrated into a Configurable Field, but are sometimes migrated to the Note field or left out if you are not using them. You can choose how you want each one migrated.

Nothing - not migrated
Notes Field - The Notes field in Community is a single text box field so the values you choose to migrate into Notes will be combined into one field, separated by blank rows, and sorted by date - newest to oldest.

Configurable Field

Communication Types - Mobile, Home and Work phone fields default to matching system fields in Community. Other options for types such as Facebook, Fax, or Other include:

Nothing

Notes Field
Configurable Field

Note Types -

PRIVACY RISK:

If you migrate

Private Notes

, see how to set up permissions here. We do not recommend migrating Private Notes to anything besides Interactions, since Interaction Permissions are the only way to keep them private to some Permission Roles and not others.

Nothing
Notes Field - The Notes field is a single field so the values you choose will be combined into one field separated by a blank row and sorted by date. Typically used for the General Note Type
Child Check-In Notes Field - Typically used for the Allergies, Special Instructions and Medical Needs fields. They print on check-in labels.
Interaction - A new Interaction type is created for each different Note Type. It then creates a new entry for each note.
Group - A group is created for the type and each person with a Note of that type is added to the group with the Join Date being the Note date.
Configurable Text Field or Date Field - The text of the field is populated with the text of the Note for each person or the Date of the Note is selecting a date field. For example, if you had a note type called Salvation Date and did not track any text as part of it, you would choose to migrate that note type as a Configurable Date Field.

Pledges - If you have multiple date ranges for the same campaign, this can create a long list of dropdowns. We recommend merging all dropdowns that should be migrated as a single campaign. Do this by selecting the same single campaign name for all Deluxe date ranges in that single campaign. See Pledges in the Additional Details section below for more explanation and an example.
Background Checks and/or Documents - Background Checks and Documents can be mapped to Background Check Details or Documents. If you choose Background Check Details, it migrates just the date and type which is all you need to for tracking renewal dates. If you choose "Document", it will migrate the actual document to the Documents area. We recommend migrating Deluxe Background Check Types to Community Background Check Details, not Documents. Permissions for the Documents area are all or nothing. So if you want all your staff and leaders to be able to see youth liability waivers or medical release documents, they would also have access to see background check files, which is typically a bad thing.

Nothing
Background Check Details
Document
Both
Data Mapping Chart
Items marked with * in the Elexio Community column have additional information provided below. Clicking the item will take you to the detail section. Recommended (default) options are in green font.
Elexio Deluxe:

Elexio Community:

GENERAL INFO

Title

-

First Name

First Name

Middle Name

-

Goes By Name

Preferred Name

Last Name

Suffix

Added to the end of Last Name

Family Position

Relationship

Household Head will default to Primary, Spouse to Wife or Husband, Child1 Male to Son, Child1 Female to Daughter, etc.

Gender

Gender

Birth Date

Age Groups

Anniversary Date

Configurable Date Field, Note, Group or Do Not Convert

Race

Configurable Text Field or Note or Do Not Convert

Marital Status

Configurable Text Field or Note or Do Not Convert

Occupation

Configurable Field which includes Occupation, Company, Job Title as one field or Note or Do Not Convert

Company

Configurable Field which includes Occupation, Company, Job Title as one field or Note

Job Title

Configurable Field which includes Occupation, Company, Job Title as one field or Note

Education

Configurable Text Field or Note or Do Not Convert

School

Configurable Text Field or Note or Do Not Convert

Prior Church Status

Configurable Text Field or Note or Do Not Convert

Heard about Us From

Configurable Text Field or Note or Do Not Convert

Campus

Zone

Group(s)

Address Line 1

Address

Address Line 2

Address

City

City

State

State

Postal Code

Zip Code

Country

Country

Phone Numbers

Mobile, Home, & Work migrate to Cell, Home and Work.
Other types can migrate to Configurable Text Fields or Notes or Do Not Convert

Individual Email

Family Email

- (See details here)

Status

The Current Status is migrated as a Group the person is assigned to

Status Date

Status History

Partially migrated. The Created Date indicates when they first visited and were entered into the system. Their current Status group Join Date indicates when they became that Status, i.e. Regular Attender or Member. Option for migrating full status history for historical purposes.*

Baptism Date

Baptized on

Baptized Here

Configurable Text Field or Notes or Do Not Convert

Membership Date

Configurable Date Field or Notes or Group or Do Not Convert*

Seeker?

-

New Resident?

-

First Created Date

Created Date

Last Attended Date

Last Attended Date

Left On Date

Check In PIN

- (Community uses name or the last 4 digits of phone numbers)

Include this person in directory

Directory Group (as long as their current status group is one that is marked as Include in the Directory)*

Opt out of all email Communications

Unsubscribed (appears under a person's email address on the record View tab, on their Account tab, and is a column listed when you export records)

Hide address on directory or report

In Community, the Visibility feature is for marking specific contact info fields as private. Visibility only impacts viewing profiles. It doesn't hide fields from reports*

Staff Member

Group

Personal (Secondary) Address

Username and Password

Username and Password (details)

Security Role & Security Role Assignments

- (Community security roles are structured too differently to migrate.)
| | |
| --- | --- |
| INVOLVEMENT | |
| Small Group | |
| Ministry Team | |
| Mailing List | |
| Class | |
| | |
| --- | --- |
| MINISTRY ASSESSMENT | |
| Spiritual gifts | Group |
| Passion | Group |
| Skills | Group |
| Personality | Group |
| Experiences | Group |
| Hobbies | Group |
| Training | Group |
| My Church Assessment | Group |
| Background Checks | |
| Other documents | |
CONTRIBUTIONS & PLEDGES

Date Given

Date

Fund

Giving Category

Giving Method

- (Checks only)

Comment (which includes check number)

Tag

-

Check Images

Check Images (for solving bank or donor discrepancies; entire last year and YTD if running between Jan. 1 and June 30. Current YTD images if running after July 1)

Amount

Amount

Do not Mail Printed Statement

Group named "Paperless Giving Statement"

Track Contributions Separately

"Giving with Family" field is unchecked

Envelope Number

Envelope Number

MICR check account #'s

Not migrated. You will need to look up each donor the first time you scan a check in the new system to associate the account #. Just a one time need.

Pledges

Pledge Start & End Date

Indicated in Pledge Campaign

Pledge Amount

Pledge Amount

Pledge Interval

Pledge Frequency

Total Pledged

Total Pledged

Pledge Amount Received

Pledge Status

Online Giving - recurring schedules,
saved payment/card numbers, and
username & passwords

Migrates in a separate process into
Elexio Giving. Wow! For details, see
step 3 of the Detailed 3 Step Process above.
PERSONAL & MISC

Follow Up

Interactions - Convert None, Convert Active [Only], Convert All, Convert All (Mark Completed)*

Prayer Requests (Private & Non-Private)

Interactions (Private and Non-Private) - Convert None, Convert Active [Only], Convert All, Convert All (Mark Complete) *
Privacy Risk: If you migrate Private Prayer Requests, see how to set up permissions here.

Notes (Private and Non-Private)

Each individual Note Type can be migrated to one of these: Notes (Personal or Child Check-In), Interaction, Group, Configurable Text Field, Configurable Date Field, or Do Not Convert*


Privacy Risk: If you migrate Private Notes, see how to set up permissions here.

Photo (Individual & Family)

Individual photo (or family photo for each person who doesn't have an individual photo. This photo can be cropped to just the individual in Community)

Attendance

Migrated as unique Groups (for each Event series) or one Imported Attendance group or Do Not Convert

Web Forms

- (Does not migrate. The new web forms back-end is different. You have 2 months after final migration to access Deluxe forms so you can refer to them as you create new Community forms. You can even leave Deluxe forms live for that time period to receive payments or registrations. If you don't want people using the Deluxe Portal for Online Giving during this time you will want to remove your web site links and change the Security setting for Portal and Mobile Users to not allow Giving. )

Anonymous Record

Migrated as an individual record, however, the contributions are linked to the system record of Anonymous Giver*

Weekly Stats

Migrates as an attendance group(s) with the WEEKLY STATS - ... naming convention. (You can also choose the "Include all segments" if you have been manually adding detailed segments to this area.)*

General settings such as church address

-
-STATUS – Member
CLASS - Class 101
EVENT – Grace Kids – 1st Grade (9:00)
MAILING LIST – Newsletter
MINISTRY TEAM - Guest Services – Greeters
SMALL GROUP – Williams, James
Additional Details
Last Names: Unknown: First Name is a required field in Community, so it cannot be left blank. If the First Name field in Deluxe is Unknown/blank, the existing Last Name field migrates to the First Name field in Community and the Last Name field is left blank.
Birth Year and Anniversary Year of 9999: Deluxe allows you to put in a month and day without a year for a birthday. In the background, it saves with a year of 9999, but knows not to display it. In Community, the date is migrated and displayed as 0000. If you want to avoid this, you'll want to run reports in Deluxe using FCR3101 People List to identify individuals who have this "unknown" date, then acquire and update accordingly in Deluxe before the final migration or in Community after the final migration.
Age Groups: Age Groups (regardless of Status) migrate as Groups. Please note that we also migrate an Unknown Age Grouping. When a person is added to the database, if you do not know the person's age, you may want to add them to this group. These groups may not be needed long term and may be deleted.
Community does not use Age Groups like Elexio Deluxe. After the final data migration, we recommend that you rename the attendance events groups (or in some cases, the children's age groups) to groups you use for Check-in. For example, EVENTS – 1st Grade or Age Group- 1st Grade, could be changed to Kingdom Kids - 1st Grade where Kingdom Kids is what you call your Children's Ministry. You can move or copy multiple age groups into a single new group if you have a preschool class that has multiple ages.
For adult age groups, Community will not automatically move people from 20's to 30's, etc. so you will want to either delete these age groups or maintain them manually. We recommend deleting them unless you use them extensively.
Campus Group(s): "Campus" migrates as a prefix to this grouping. You may want to update the name(s) in case of redundancy before the final is run or post-migration. Changing group names is easy. In Community, go to Groups, check a Campus Group name, then click Edit. Also, note there may be a "Campus - Unknown" group migrated, if so, you'll want to be aware of it or update these individuals to reflect the campus they attend, then delete it.
Individual Email: Migrates the Default email to Primary Email. If there isn't one, then the first individual email listed will be migrated.
Family Email: Few adult records have a Family Email, but not a personal email. The personal email will migrate, but since family email is often a duplicate, it does not migrate. It is usually not a problem for children not to have email addresses, since when emailing families of children in Community, you can check a box to "Email the parents."
Secondary Address: If there is a secondary address on a person's record, both migrate as "Residential & Mailing". This can be updated to the correct label, either Residential or Mailing, post-migration. The address must be complete for the secondary address to show on the profile page.
Private Address AND Contact Information: Starting with the Community release of Visibility in Q4 of 2019, privacy settings will migrate. Here are some notes that will help you post-migration and assist you in understanding how you'll handle this info.
If you want to enable the Directory feature, click Permissions and look for Enable Directory. When Yes is selected, you can add the Directory group, then select the fields you wish to include.
1-There are 4 levels of visibility in Community. The most private is Staff Only. Then visibility can be added to each of these groups of users: Group Leaders; Group Members, and finally Directory (anyone who has been given access to the Directory).
2-If records do not have any contact fields marked as private, the migration will default most contact fields to Directory. The only 2 exceptions are Birthday and Age. Since Deluxe did not show these fields in the Directory, they are migrated as Group Leader. Group Members and Directory users will not have access to see them.
3-If a field is marked as Private, the visibility will be set to Group Leader so only Staff and Group Leaders can see it. If you don't want group leaders to see a private field for certain people which is rare, you will need to edit their visibility settings after the final migration.
Status Date & Status History: The current Status and current Status Date are migrated into a group. Each person in Community should be in one and only one Status group. Each group has a Join Date and for Status, this is the date each person was given that status. For Members, you will have a record of their membership date built into the group (Join Date) and not need a separate Membership Date. However, some churches use the Membership Date extensively so we also migrate that field into a configurable field. It can be used for Advanced Searches and reports where the group Join Date cannot. If you don't use the Membership Date extensively, we recommend deleting the configurable field to alleviate the added data maintenance of keeping this date in 2 places – group join date and configurable field.
If you need reports for denominational or other reporting, you could create additional groups or configurable fields for things like: Date Received, Date Transferred, Date Dismissed, Received From, Transferred To, Status Change Notes, Reason Dismissed, etc.
If you want the full Deluxe status history saved into Community, after final migration you could run a Deluxe report that includes Status History, ContactID, First Name, and Last Name fields. Then import it into a Configurable Field in Community called Status History, Status Change Notes, Membership Notes, etc.
First Created Date: We are migrating the First Created Date in the Elexio Database to the Created Date field in Community. This gives you a history of when the person first visited and was entered into the database.
Left On Date (No Longer Attending Date): This date is determined by the date associated with any status in the Drop Out Grouping in the Status Code area on the Administration tab in Deluxe. Make sure all your Left, Moved, or No Longer Attending statuses are in this grouping.
Directory: The records migrated into the Directory group are those in a Status grouping that is marked "Include in the directory" (See Admin - Codes) AND who have the checkbox marked to "include in the directory" on the General Info tab of their record to this group. If you plan to use the Community online or mobile directory feature, select this group by clicking Permissions > Enable Directory > Yes, then set the Directory Group as… you guessed it… Directory. Also, select the fields you want visible for Directory viewers.
Username and Password: The 2 main reasons we migrate these... 1) Elexio Giving requires the username to be an email address and since the Giving and Community are separate but integrated systems, it will be less confusing for your attenders if they can use their email address for both logging into Giving and Community; and 2) The long term direction for Giving and Community is to have a single sign-on (one username and password for both) and this will be using email address. However it is a ways off from being developed. If you continue to use email address for the username instead of the default, which is Firstname.Lastname, your attenders will not have to switch usernames in the future.
For future new users that you want to grant Community account access to, we advise you to first copy their email address into the Username field.
It will migrate all email addresses (except duplicates) into the Username field in Community even if the person doesn't have a Portal or Database account. If they do have an account, it also migrates the password.
How the migration checks for duplicate individual emails:

If there are any, the priorities are this:

If someone with that email address has a Portal Account, they get that email address as their Username.
If none have a portal account, the highest ranking person in the household with that address, gets it assigned to them. The others do not.
If the address is in 2 different households, it just gets assigned to the first household the migration gets to.

Results: No duplicate emails are brought in to the Username field. But duplicates may be brought into the Primary Email Address field.
Involvement: Depending on your selections, active and/or inactive involvement may have been migrated. Small Groups, Ministry Teams, Mailing Lists and Classes are migrated with an identifiable prefix. People with all levels of involvement are migrated, including Interested. The ChMS does NOT have levels of involvement, so all people migrate as members. You may want to remove certain people based on level such as Interested before the final migration. If a person has 2 different involvement levels in a group such as member and interested, they migrate as member and the date of the most recent involvement will be migrated.
Classes - The checkbox by people's names in a class is for processing a letter - NOT for active vs inactive. For example, if someone completes the Membership class, you can check that box and then next time you print letters, it will print the Welcome to Membership letter. Since you can have any number of involvement levels, such as, Attended, Attended Committed, Leader, Interested, etc. we can't know which ones you want imported and which ones you don't. If you don't want some imported, you will have to move them to a different group (for example, Membership Class Interested) or remove them from the class.
Background checks and Documents: Background Checks that have an Expiration date older than the migration date are not migrated. Ones that have an expiration date in the future can be migrated. You can choose which Background Check/Document types you want to be migrated. If selecting Document, it only migrates those lines that have an actual document attached in Deluxe. If selecting Background Check Details, in Community it adds a Background Check line item marked as Completed, with the Date and Type for every single line regardless of having a document or not.
You can run Background Check reports (FCR 3801.1 & CSO102) from Elexio Deluxe to find the Failed ones or any other ones you want to delete or edit. We suggest you start using Protect My Ministry integration for all new Background Checks post-migration. There is no way to manually enter background checks in Community. The main need for historical Background Check details is so you know who has been approved and so you know when they need to be renewed. You can do these things without having the actual files and in the rare case when you need to look at the Background Check document, you can access it through your provider.
No matter which migration choices you make, we recommend creating a configurable date field for Background Check Approval Date. This date field will show up on people's record so staff can see background check approval even if they don't have permission to see the actual background check area. It is available in the Advanced Search. It also creates a Background tab in the Membership Reports area for searching and filtering by date. Alternatively, you can create a group called Background Check Current and add approved people to it with a Join Date equal to the date of their background check.
The sort order in ChMS for Documents is alphabetical. The sort order for background check details is newest at the top.
Contributions Comment and Giving Method (including Check Number): Community tracks the "Source" instead of Giving Method. All migrated contributions will have a Source of "Import". The Comments field from Deluxe will migrate into the Note field in Community, not the Check Number field. To denote which historical donations were checks, the word CHECK is inserted into the Check Number field.
Explanation for this mapping: Deluxe has one field for both Comments and/or Check Number, however Community has 2 fields - Check Number and Note. Since having text comments in the check number field (which usually displays on giving statements) would be confusing for donors, the Comments field is migrated to Giving Note in Community. This is not ideal for statement display purposes, but will only be a factor if you migrate mid-year and only for that one year's statements. You can also choose to not print the Note field on Community statements.
Moving forward in Community you can differentiate between check, cash, other, and online. You will enter a Check Number in the Check Number field and notes in the Giving Note field. Community denotes that a donation is a check if there is any number in the Check Number field. Community denotes cash by having the word cash anywhere in the Giving Note field. It denotes Online giving by tracking the source as Online instead of Input.
Household Heads Tracking Separately: If this exists in your Deluxe Database, in the migration, Household Heads are migrated to give with the family and members of their household are marked so they do not give with the family.
Funds: All funds have been migrated as either tax-deductible or non-tax-deductible. Please verify. To view and change these (post-migration), click Settings > Giving > Giving Categories. For each Active Categories, click the small gear for each to indicate in the pop up if is tax-deductible or not. You can also determine if a fund is active or not. Again, any changes you make now in Community will be overwritten in the final migration so please wait until the migration is officially complete.
Follow up Requests & Prayer Requests: A new Interaction type will be created for each type of follow up request in Deluxe. An individual interaction for each follow-up or prayer request is created. When migrating your data, selecting Convert All (which migrates active and inactive requests) can overwhelm this area of the database. Convert All (Mark Complete) is a good option if you want history, but want to avoid a long list of outstanding Interactions. *See Private Prayer Request privacy risk information 2 sections below.
For Prayer Requests, the text of both the request and or the answer is saved in both the Instructions and the Summary fields. If there is a request and an answer, the word "Request: " will be before the request text, there will be a line break after the request, and the word " Answer/Update: " will be before the answer text. The reason for this is that in Community sometimes only the Instructions are listed and sometimes only the Summary is listed. You will want the Deluxe text to appear in both.
Dates - In general:

Deluxe Request Date = Community Date Assigned
Deluxe Answer Date = Community Date Completed

Dates - Specific Scenarios:

If Active... it will stay as "Outstanding" and there will not be a Date Completed
If Inactive and no Answer date... Community Date Completed = Date of Migration
If you choose "Mark as completed"... Community Date Completed = Date of Migration
Notes: The Notes fields is a single field so the values you choose will be combined into one field, as different lines, sorted by date with the newest at the top. The following Notes types: Allergies (for kids), Special Instructions (for Kids) and Medical (for kids) can be migrated to Child Check-In Notes and can be seen in 2 places. 1) On a person's individual record in the Notes box by clicking the dropdown and changing it from Personal to Child Check-in. 2) In Check-in Mode, click on Edit Note next to the person's name. This may be an area that you want to clean up post-migration so the name tag format looks clean and to make sure there are no duplicates.
Private Notes and Private Prayer Requests – PRIVACY RISK: Update Permissions VERY carefully if you decide to migrate Private Prayer Requests and/or Private Notes due to privacy risk. A new Interaction type and an individual interaction for each Private Prayer Request are created. We also recommend migrating Private Notes as Interactions instead of Notes because in Community, the Notes field is a single field and the individual entries in that field cannot be hidden separately. However, Interaction types – the ones you want to be kept private – can be hidden using Permissions.
If users in a certain role don't have access to Interactions at all, you don't need to do anything special. If users do have access to Interactions (for example, staff and maybe key leaders), it is VERY IMPORTANT to make sure you uncheck the boxes for these private Interaction types for every Permission role except for example, Pastors.
Pledges: The migration ONLY includes pledges that have an end date in the current calendar year or prior calendar year. You don't have to map all of them to be imported though. For example, if the export is run on May 1, 2018, and you have a pledge for Jan. 1 to Dec. 31, 2016, it will not migrate. If you have a pledge for Jan. 1 to Dec. 31, 2017 it will migrate. If you have a multi-year campaign for example 2015-2018, we recommend bringing over all those year's contributions so the fulfillment tracking will be complete.
Donations that are given outside of each person's pledge date range were not associated with the pledge in Deluxe and will NOT be associated with the pledge in Community either. If you need to change any of these, we recommend you change the date range in Deluxe before the export.
In Deluxe, pledges are connected to the household unless the person is marked to be tracked separately. Since pledges are connected to Individuals in Community, household pledges are migrated to the "Primary" family member only. If there are multiple date ranges for pledges for a campaign in Deluxe, we recommend they be merged into one single campaign during the migration process. For example, if 98% of people have a pledge for 1/1/2017 to 12/31/2018, but a few have pledge dates of 12/31/2016 to 12/31/2018 to give early, you will merge these 2 date ranges into the same campaign in Community. Each donation to the pledge fund within the date range in Deluxe will be associated with the campaign/pledge fulfillment in Community.
For example, if you have people with 3 different date ranges for the 2018 Building Campaign, you will see 3 fields such as:
Fund Name: '2018 Building Campaign' Start Date: 11/01/2017 End Date: 12/31/2018
Fund Name: '2018 Building Campaign' Start Date: 2/01/2018 End Date: 12/31/2018
Fund Name: '2018 Building Campaign' Start Date: 1/01/2018 End Date: 12/31/2018
You would chose the same dropdown list item for all 3 such as: Fund Name: '2018 Building Campaign' Start Date: 1/01/2018 End Date: 12/31/2018. It will associate all the above people's pledges into this one campaign which you can rename after the final migration. It will keep each individual's custom date range and associated pledge fulfillment donations that are within that date range.
One feature that is more flexible in Community is that each contribution can be disassociated with a pledge even if given to the pledge fund within the pledge date range.
Anonymous Unknown record & contributions: This record in Deluxe was migrated as an individual record in Community. However, the contributions are now linked to the "Anonymous Giver" in the Community Database vs. being on the individual record in Deluxe. You can verify those contributions by clicking on Reports- Giving - By Anonymous. You can delete the individual record of Anonymous Unknown post-migration if you do not need it.
Weekly Stats: Migrate as a summary attendance group(s) with the WEEKLY STATS - ... naming convention. You can also choose the "Include all segments" if you have been manually adding detailed segments to this area. If you have been adding detailed segments from already entered data like Child Check-ins, we don't recommend including all segments since it will double your attendance groups. You can continue to add total headcount numbers to this group(s) in Community > Attendance > Add Session.
If you have been using the segments feature in Deluxe to bring in Check-in attendance that is also in the individual attendance area and you want to migrate summary data for more years than individual attendance data, we suggest choosing to migrate the detailed segments. This way you can these totals so you will have access to trend reporting older than the detailed attendance you are migrating. For example, migrating 10 years of weekly stats segments but only 1 year of actual attendance.
Best practices: Aggregate groups (which are used in Attendance Reports and or Dashboards) are best for tracking attendance total trends in Community. For continuity, you can create aggregate groups that include both the weekly stats group(s) (that may just have historical data, but not be used going forward) and attendance groups (that will be used going forward for either summary attendance or individual attendance). One other option for continuity is to rename the Weekly Stats group(s) and keep using it (them) to enter attendance. Example: Create a new aggregate group for Total Attendance that includes 1) Weekly Stats - Total Attendance and also 2) all the separate groups used for attendance going forward like First Service Headcount, Second Service Headcount, First service Kids groups, and Second Service Kids groups. This aggregate group will be pulling the Weekly Stats attendance from the pre-migration dates, but other groups for post-migration dates.
Calendar: With each run of the migration the calendar will be overwritten, including Permissions. However, the Calendar Roles themselves and settings are not overwritten.
Online Help Content: If you need assistance as you are using Community, the Help Center can be accessed by clicking the Help link in the upper right corner of the screen in Elexio Community. The help website with videos can be accessed here – https://getstarted.church/database-videos.
Streamlining - How to Delete Inactive Records
Be very careful. One of the biggest risks is deleting records with current year giving and not being able to send them giving statements. In Community, you can view a list of everyone in a group and then delete them all or just check certain names from the group and delete them in mass. However, there is not a field in Community for Last Contributed by Household, so it is very risky to delete people in mass without deleting people with contributions.
The solution we propose…
Before your final data migration, create a Mailing List in Deluxe using the Mass Edit feature and then delete all the people in the Mailing List group in Community after the final conversion. Why? In Deluxe, you can only delete one record at a time, but in Community, you can easily delete large groups of people records.
Typical Steps to delete records:
In Deluxe, create a mailing list such as "TEMP - Inactive Records to be Deleted."
Use the People List Report FCR 3101 (or another report) in Deluxe.
On the Field Chooser tab, select the fields that you want to include in your filters.
Then on the Report Filter tab, you can drill down on the specific criteria you want to use to limit the data in the report.
You want to make sure you are not deleting anyone who has current year giving, so include the Last Contributed by Household field.
Example filters:

People List Report: Status equals No Longer Attending AND Last Contributed by Household is less than 1/1/2016 (or less than 1/1/2017 depending on how many records you want to delete).
Custom Search: Using filters similar to the "Newcomers Who Are No Longer Attending or Giving" report, such as the "Times given in the last 1 (or 2 or 3) year" equals 0, "Times attended by household in the last 1 (or 2 or 3) year" equals 0, AND Status Groupings is X.

Be very careful, because people in the same household may have different statuses and you could end up deleting just the parents or just the children.
When the list is checked and finalized, click on the Output Wizard, then Mass Edit, then Add all to the Mailing List you created for this group of people.
To double-check your new Mailing List, you can run a Contribution Detail report and filter for just the people in that Mailing List to make sure none of them have current year contributions or a current status.
In Community:

Click on Groups, then click the name of the group to be deleted to see a list of the member names.
Click the check box at the top left to select everyone in the group.
Click the gear and select Delete People From Entire System and click OK to all the prompts.
This will delete all the people in that group from the entire system including their attendance, but will move any donations they had into the Anonymous giver records so your historic giving totals by fund will still be accurate.
Delete the temporary group itself (it should be empty now) by clicking to Edit the group and clicking the Delete button at the bottom of the group settings screen.
Using Community to Find Inactive People
If you can't get everyone added to a mailing list in your old system, here are some tips for doing this in Community.
There is a feature in Community to "take action on" 1) parents and children, 2) all members of families. This will allow you to run reports or advanced searches in Community and then not only add the people who are listed to a group, but to add their whole family. This is huge for clean up.
To find families to delete, you may need to run the "By Individual" giving report for those who gave since a certain date, then use the Gear action to add the whole family to a group. Then use the advanced search screen to filter to only the people who are not in this group (because they didn't give since that date). You can then add all those people to a group for To Be Deleted. You can then do additional Advanced Search filters to remove people from that group based on Last Attended Date, Status Group, Created Date, etc. so you won't delete new visitors, members who aren't able to give, etc.
Here is a video that shows the process for deleting every record that is not a part of a family that has given a donation in the last 3 years: 5 Minute Video.
There are also Workflow options in Community where you can add people to a group based on absences from events/groups x number of times in the last x number of weeks. You can then use the Advanced Search or the group list to add or remove their whole family from that group or other groups.
Testing
Before your final conversion, we recommend thorough testing in at least one of your interim runs to make sure you didn't accidentally delete records with giving. After you review the interim conversion run for overall data accuracy and there is nothing needing to be fixed, test the deletions. First, delete the records using the above steps, then run reports for current year giving totals in both Community and Deluxe to make sure they match